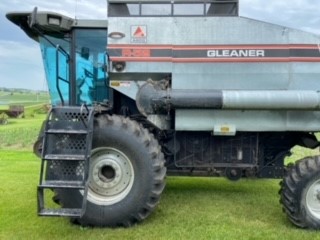 Chester Mathes Estate
Saturday June 18 10:00 A.M.
Location 1393 HWY 92 Oskaloosa IA
8 miles west of Oskaloosa
Farm Machinery and Pick Up
1992 R52 Gleaner combine with 4230 engine hrs. 2475 seperator hrs.: Deutz Allis 20 ft. grain hd.:6 row Agco hugger corn hd.: Kelderman corn reel used one year:old Massey 4 row corn hd.: 1970 MF 165 WF gas with 235 loader 5ft bucket serial number 92978:1975 MF 1105 Deisel, cab , Serial number 58225: 2005 Chevy 1/2 ton pickup 4/4 regular cab with 8 ft box 113000 miles: JD 7000 6 row planter,with monitor and Yetter trash whippers, kinze bean cups: JD 7000 4 row planter for parts: older Parker Gravity wagon on Westendorf gear: 250 bushel JM gravity wagon on JM gear: Dakon gravity wagon: Huskey gravity wagon: Flair Wagon: MF 86 4 bottom plow; 14 ft Krause Disc: 4 section JD harrow on cart: 8ft. 3 pt. blade: 3pt Century Sprayer: old 1071 Westfield auger: lots of old machinery for scrap: seeder on wheels : Piles of wooden fence posts stored inside : steel poles: used barbed wire: Piles of lumber: large torch: welder: ext ladders: bench grinder; wheel barrow; plus a couple of racks full of hand tools normally found in a farm shop:
Wood Working Tools and Collectables
large General Table saw: 12" Craftsman band saw: Rockwell drill press: 10" radila arm saw: 10" Craftsman table saw: Craftsman planer molder; Dust Vac system: mutiple router, belt and viberating sanders, drills ,De walt battery tools: Poulan chain saw:Old Metal toys consisting of trucks, tractors, wagons, pull behind combines and many more: old record player,
NOTE Chester loved to spend hrs in the wood shop, I can not list all the tools he had in it, but it was full so I am sure that we overlooked quite a few good tools. I will continue to update the website with pictures as we start loading the trailers. Come take a look.
Consigned by Arlen Eggerling: 2, 300 bushel EZ Flow gravity wagons: 20'Glencoe soil finisher: 11 shank Blue Colter Champ disc chisel with twisted shanks; 60FT. 12" belt auger
Owner: Chester Mathes Estate
sale conducted by Tri County Auction
Brad Venstra 641 780 4077 www.tricountyauction.com